Key Points:
Alliant Credit Union offers mortgage programs with zero down payments.
It offers specialized programs for first-time buyers, condo buyers, and those in medical professions.
You can complete the entire mortgage process online or over the phone.
You must be a member of Alliant Credit Union to be approved.
Alliant Credit Union Fixed-Rate Mortgage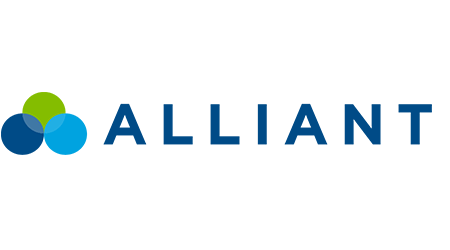 Alliant Credit Union Fixed-Rate Mortgage
What we like:
Easy, online process and many low-down-payment options.
| | |
| --- | --- |
| Minimum Credit Score | Not disclosed (580 – 620 estimated) |
| Minimum Down Payment | 3% |
| Loan Terms | 15, 20, or 30 years |
| Other Loan Types | ARM, refinancing, cash-out refinancing, condo loans, medical professional loans, and jumbo loans. Credit requirements and terms may vary. |
See how Alliant Credit Union stacks up against top mortgage options
---
When it comes to mortgage lenders, you have hundreds of options to choose from. Credit unions are one of these options.
Though you must meet certain membership requirements before you can apply, credit union home loans often come with lower interest rates and better customer service than other lenders out there. If you're interested in a credit union mortgage loan, Alliant Credit Union is one to consider.
Use this Alliant Credit Union review to see whether an Alliant mortgage is a fit for you.
In this review:
Alliant Mortgages: by the numbers
| | | | | |
| --- | --- | --- | --- | --- |
| | Minimum credit score | Minimum down payment | Loan terms | Origination fee |
| Fixed-rate | Not disclosed | 3% | 15, 20, or 30 years | $995 |
| Jumbo | Not disclosed | Not disclosed (see fixed-rate minimum for estimate) | Not disclosed | Not disclosed |
| Alliant Advantage | Not disclosed | 0% | Varies by loan | Not disclosed |
| Refinance | 580 | 3% | Depends on original mortgage type | Not disclosed |
| ARM | Not disclosed | 3% | 3/1, 5/1, 7/1, or 10/1 | $995 |
Which mortgage loans does Alliant Credit Union offer?
Alliant Credit Union offers several mortgage loan options, including fixed-rate, adjustable-rate, jumbo, and refinance loans.
It does not participate in any government-backed first-time home buyer programs, such as FHA, VA, or USDA mortgages.
Here's what Alliant offers:
Fixed-rate loans
Alliant's fixed-rate mortgage loans are a good option if you want consistent, predictable payments and are planning to stay in your home for the long haul. These come in terms of 15, 20, or 30 years.
Jumbo loans
If you're looking to purchase a high-priced property (one that goes beyond the conforming loan limits for your county), then Alliant's jumbo loans can help you do it. These go up to $2 million.
Adjustable-rate loans
Alliant's adjustable-rate mortgage loans (ARM) are a good choice if you don't plan to stay in your home long. They offer low upfront interest rates (and monthly payments), and come in the following terms: 3/1, 5/1, 7/1, or 10/1.
Alliant Advantage Mortgage loans
If you're a first-time home buyer, the Alliant Advantage Mortgage program (AAM) is worth considering. The program offers first-timers a zero-down, zero-mortgage insurance loan that can significantly reduce the upfront costs of buying a home.
>> Read more: Best Mortgage Lenders for First-Time Home Buyers
Mortgage refinance loans
Alliant Credit Union mortgages can also be used to refinance your existing loan. With the Advantage Mortgage program, you need as little as 3% equity in your property to refinance, and no mortgage insurance is required.
If you're looking to remove private mortgage insurance (PMI) or the FHA mortgage insurance premium (MIP) from your existing loan, this could be a good route to consider.
Alliant also offers cash-out refinancing, which allows you to tap your home equity to pay for repairs, improvements, and other expenses, or even to consolidate higher-interest debts.
>> Read more: Cash-Out Refinance vs Home Equity Loan: Which Is Better?
Other mortgage loans
Alliant Credit Union offers two specialized mortgage loans: one for condo purchases, and another designed specifically for home buyers in medical professions.
If either of these loan types would apply to you, you can inquire about them when you request a quote on Alliant's site.
Additionally, the Alliant Home Rewards program can give you a cash-back rebate of up to $13,000 if you use a participating real estate agent and loan officer to sell your home and purchase your new one.
Pros & cons of Alliant Credit Union mortgages
It offers several zero- and low-down-payment mortgage options.
Some programs require no mortgage insurance.
You can complete the process entirely online or over the phone.
The Home Rewards rebate program can offset your upfront costs.
You can lock your rate for up to 60 days for free (120 days for new construction).
It doesn't offer FHA, VA, or USDA loans.
You must be eligible for membership in Alliant Credit Union.
Eligibility & application requirements
First, Alliant Credit Union mortgages require you to be a member of the credit union itself. Members must fulfill one of these requirements:
Be an employee of an Alliant partner company or member of a partner organization. (Ex. You can become a member of it's partner charity, Foster Care to Success. Alliant will pay a $5 membership fee on your behalf.)
Be the spouse or family member of an existing Alliant member.
Live or work in an eligible Chicagoland community.
Mortgage applicants do not need to be a member before applying. You can become an Alliant member during the application process.
Beyond membership, you'll also need to meet the requirements of the loan you apply for. Alliant doesn't disclose its minimum credit score requirements, but you'll likely need a score of 620 to 640 or higher to qualify for a loan.
If you have poor credit, a higher down payment could help offset the risk you present the lender.
How to apply for an Alliant Credit Union mortgage
To apply, first become an Alliant Credit Union member. To do this, confirm your eligibility, and go through the online agreement and verification processes.
Once you're a member, the application process follows these steps:
Fill out Alliant's online mortgage application.
You should receive a call from an Alliant loan officer shortly. They'll go over your application and detail the documents you'll need to provide.
The loan officer will send you loan disclosures, which show your estimated mortgage payment and the total costs you can expect come closing day.
Confirm your intent to proceed with the mortgage, and your loan file will move into underwriting.
Alliant will order an appraisal of your property, verify your documentation, and move your loan through the approval process. You'll receive updates weekly on your loan's progress.
Finally, you'll receive your closing appointment. That's when you'll sign your paperwork, wire your closing costs and down payment money, and receive your keys.
Other info you'll need to apply
You'll need a lot of documentation to apply for your mortgage. Though the required paperwork depends on your financial situation, loan program, and employment, you can expect to provide:
Copies of your most recent paystubs, tax returns, and W-2s
A copy of your driver's license
Copies of your most recent bank statements (including those for your business if you're self-employed)
Employment verification
Statements for any retirement or investment accounts
You will also need information about the property, and you'll need to agree to a credit check. This will help Alliant gauge your current debts, as well as your credit and bill-payment history.
Alliant Credit Union alternatives
Choosing the right mortgage lender is critical as a home buyer. Your lender (and the payment that comes with it) will stay with you for decades.
Consider getting quotes from a mix of the best mortgage lenders, including credit unions, banks, and digital mortgage companies, and compare their rates, fees, and terms before deciding which is the best fit.
And remember that customer service matters, too.
How we rated Alliant Credit Union mortgages
Alliant Credit Union earned a score of 4.42 out of 5.00. LendEDU ranks mortgage lenders based on the weighted average of 12 data points, including:
Customer Support (20%)
BBB Rating (10%)
Zillow Rating (10%)
Other Rewards and Extra benefits (10%)
Lender Fees (10%)
Application Fees (10%)
Trustpilot Rating (5%)
States Available (5%)
Number of Branches (5%)
Number of Licenses and Registrations (5%)
Number of Regulatory Actions (5%)
Number of Mortgage Loan Originators (5%)
4.42
Alliant Credit Union Mortgage
Aly J. Yale is a writer and journalist from Houston, specializing in mortgage, real estate, and personal finance topics. Her work has been published in Forbes, The Balance, Bankrate, The Simple Dollar, and more. Connect with her on Twitter.