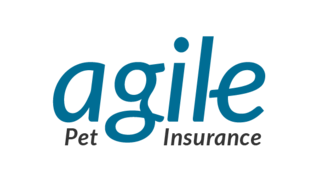 on Agile's website
What we like:
No waiting period once approved for coverage
| | |
| --- | --- |
| Age Restrictions | 2 – 299 months |
| Monthly Premiums | As low as $23 |
| Deductibles | Per claim; $100 for services & treatments, $200 for surgery |
| Benefit Limit | $100,000 lifetime coverage |
See how Agile Pet Insurance compares to other providers.
Pet insurance has become a popular way for people to take care of their pets. The coverage can help you pay for the costs of healthcare for your furry friend.
Agile Pet Insurance is one of the many companies now offering insurance for pets. The company offers unique policies that are fairly different from the competition.
In this review:
Agile Pet Insurance policy details
| | |
| --- | --- |
| | Agile Pet Insurance |
| Eligible breeds | No restrictions |
| Eligible ages | 2 to 299 months |
| Maximum benefit | $100,000 lifetime benefit |
| Reimbursement | 50% – 90% |
| Deductible | $100 or $200 per claim |
| Monthly premium | As low as $23 |
| Waiting period for illnesses | None |
| Waiting period for accidents | None |
| Medical exam required? | Yes, if your pet has not been to the vet in 12 months. Otherwise, only have to provide medical records. |
Agile Pet Insurance covers dogs and cats of most ages. You can insure a pet as young as two months old, which is young enough that most new pet parents won't struggle to get a policy.
One nice perk of Agile Pet Insurance is that there's no waiting period for the insurance to go into effect and that pre-existing conditions are covered if they haven't been identified at the time that you purchase the coverage.
One drawback is that the plan comes with a per-claim deductible. You have to pay the $100 deductible for each visit to the vet before the insurance kicks in and starts reimbursing your costs.
Also keep in mind that certain procedures, including surgery and care over $2,500 require pre-approval from Agile, which can be an issue in an emergency.
How much does Agile cost?
Agile's policies start as low as $23 per month. Typically, cats are cheaper to insure than dogs, so dog owners can expect to pay more to cover their pet.
In general, costs vary with where you live, what kind of pet you have, and other factors. For example, people who live in a busy city might pay more than someone who lives in a suburban or more rural location because of the increased dangers their pet may face in a city.
One unusual aspect of Agile's Pet Insurance policies is that you don't always get the option to customize your plan. Many insurers let you adjust your coverage levels to change your monthly bill, but Agile offers just a single plan to some customers.
There are some discounts available, including multi-pet discounts and discounts for employees of the military and animal shelters, rescue homes, and veterinary hospitals.
What does Agile cover?
Agile covers many of the ailments and issues that a pet would have. Some of the things that it covers with no questions include:
Cancer treatments
Respiratory issues
Kidney disease
Hip dysplasia
Hit by car
Bites from other animals
Foreign body ingestion
Mouth or tooth injuries
Acupuncture
Chiropractic
Herbal therapy
Naturopathy
Homeopathy
For certain things, you must get approval from Agile prior to the procedure to receive coverage. Procedures requiring approval include:
Surgical procedures
Veterinary specialty fees
Overnight hospitalization
Services over $2,500
Treatment for hip dysplasia
Tissue or organ transplants
There are two important caveats to keep in mind.
One is that the plan has a $100 per visit deductible. If you go to the vet, you have to pay $100 out of pocket before the insurance kicks in and starts reimbursing you for your costs.
The second is that the plan has a $100,000-lifetime benefit limit. Most pet insurance plans have an annual benefit limit or no limit at all.
What Agile does not cover?
Agile covers most of your pet's medical needs, but there are some exclusions. The company lists the following exclusions in its policies:
Pre-existing conditions diagnosed prior to coverage
Vaccinations
Spay and neuter surgeries
Sales Tax
Flea, tick, and heartworm prevention
Dental treatment (not due to an accident or injury)
Because Agile requires a medical record for your pet before giving you coverage, Agile will identify and inform you of any pre-existing conditions it finds before you finalize the policy. That means you'll be forewarned about any conditions the insurance won't cover.
Pros & cons
Many discounts available

No waiting period

Monthly premiums don't change as your pet gets older
$100,000 lifetime benefit limit

Does not fully cover prescription food and medicine

A long list of exclusions

Per-claim deductible

A medical exam may be required
How to get an Agile policy
Getting an Agile policy is relatively easy.
Eligibility information
Agile does not offer insurance nationwide, but partners with local providers that you can work with to get coverage if you're outside of one of its coverage areas. The company insures all breeds of cats and dogs aged 2 to 299 months.
If your pet has been to a vet in the past year, no exam is required. You just need to authorize your vet to send your pet's medical records to the insurer. If you haven't been to the vet in the past year, then a medical exam is required. This lets Agile identify any pre-existing conditions.
How to apply
Applying for a policy is easy through Agile's website. Here are the steps you'll need to take:
Go to the company's site, enter your ZIP Code, and click "get a quote."
Enter your pet's name
Select whether your pet is a dog or cat
Enter your pet's birthday
Add any additional pets that need coverage
Review the policy and finalize the application with your personal and payment info
Where to find alternatives to Agile
Pet insurance is becoming a common expense for pet owners and Agile is just one of many insurers on the market. If you're interested in covering your pet but don't think that Agile is right for you, it's worth considering other options.
Our guide to the best pet insurance providers is a great place to start, especially if you're looking for plans that offer unlimited coverage, only have annual deductibles instead of per claim, or that don't require pre-approval for certain types of care.
---
Ready to take out a policy with Agile? Check out its website.
Benefit Limit: $100,000-lifetime benefit
Reimbursement: 50% – 90%
Deductible: $100 or $200 per claim