Some offers mentioned on this page may be outdated. To confirm offers and credit card details, check the issuer's website.
---
AAdvantage Aviator Red World Elite Mastercard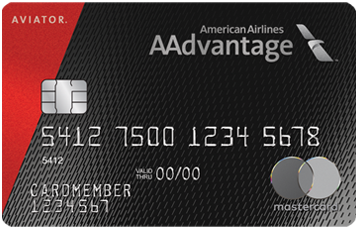 on Barclay's secure website
AAdvantage Aviator Red World Elite Mastercard
What we like:
A great travel card with no limits
Intro Offer
Earn 60,000 bonus miles after making a purchase in first 90 days and paying the annual fee
Rewards Rate
2x AAdvantage® miles per $1 spent on eligible American Airlines purchases

1x AAdvantage® miles per $1 spent on all other purchases
Regular APR
18.24% – 27.24%
Annual Fee
$95
See how this card stacks up to our top rated airline credit cards
American Airlines' AAdvantage credit cards have been a mainstay in the airline miles card lineup for some time. The AAdvantage Aviator Red World Elite Mastercard, however, is one of the higher-end cards for frequent travelers. Offered through Barclays Bank, the Red World Elite has an incredible sign-up bonus for those who can qualify for it.
Getting the AAdvantage Aviator Red World Elite Mastercard
In order to be approved for this card, applicants need to have at least a credit score of 700; while some have been approved with a 690 credit score, that is fairly rare. The card itself, as a high-end product, is geared toward high credit users, but some find that they can get approved by calling the company and applying over the phone instead of online.
If you can get approved, you'll enjoy benefits that compete with the best airline credit cards, as well as a signup bonus of 50,000 miles with one purchase in the first 90 days. The best part about that bonus? There's no purchase minimum amount—as long as you use the card once for anything in the first 90 days, you'll get the 50,000 bonus miles.
Basic Information
Rates
Min APR: 17.49%
Max APR: 26.49%
Balance Transfer: 17.49% – 26.49%
Cash Advance: 26.74%
Fees
Annual: $95
Late Payment: $37
Balance Transfer: $5 or 3%
Foreign Transaction: N/A
First, let's talk about rates and fees. The Aviator Red card has three interest rates: 17.49%, 21.49%, or 26.49% APR. Which rate an applicant gets is dependent on their creditworthiness; the higher their credit score, the lower the interest rate. The card does, however, have a 0% introductory APR for balance transfers that post within the first 45 days of the account opening. Cash advances, as with any other card, are more expensive at a 26.74% APR.
The annual fee is $95; the 50,000-mile sign up bonus, however, more than makes up for that in the first year. All balance transfers have a $5 or 3% fee, whichever is greater. Foreign transactions, however, carry no fees at all, making this a great card for international travelers.
The Benefits
This card has a number of fantastic benefits; the sign-up bonus is just the beginning. All purchases made with American Airlines earn double miles; all other purchases earn 1 mile per dollar spent. You also get 10 percent of your redeemed miles back at the end of the year, up to 10,000 miles.
You don't need to worry about paying for checked bags anymore, either; the first checked bag for you and up to four companions is free as long as you're flying on a domestic flight operated by American. You and your four companions also get preferred boarding on all American flights worldwide, 25 percent off all in-flight food and beverages—even in coach—and access to World Elite Travel Services, which can help you find deep discounts and great offers on hotels, vacation packages, and more.
With the Aviator card, you also get access to Personal Concierge services, auto rental collision damage waivers, trip cancellation insurance, and many more perks. When it comes to spending, you'll enjoy $0 fraud liability, payment protection, and easy merchandise returns. If you spend more than $25,000 in a calendar year, you'll also receive $3,000 in Elite Qualifying Dollars.
The Downsides
While the Barclays AAdvantage Aviator Red Elite Mastercard is arguably one of the best travel credit cards on the market, it's not quite as good as an everyday spending card for someone who doesn't travel often—or who doesn't like flying on American Airlines.
Since most of the benefits are geared toward travel, you won't get much out of the card if you don't take advantage of those. The high credit score required also makes it more difficult to get than many other cards, including a few of the airline miles cards. Cardholders with a credit score of slightly less than 700 could look into another card, such as the lower-tier American Express SkyMiles Gold card.
If you're a traveler and are planning to use those travel benefits, you'll want to pay attention to expiration dates and plan accordingly. The sign-up bonus miles expire 18 months after account opening, so if you're only signing up for that bonus, make sure you use the miles within that time. Regular miles gained after the bonus will also expire after 18 months as well, so just pay attention to your miles balance and plan any trips before they vanish.
The Bottom Line
The Barclays AAdvantage Aviator Red Elite Mastercard is one of the best out there for frequent travelers on American Airlines and partners or cardholders with excellent credit. It probably won't end up being your go-to card for everyday spending—there are other cards better for that. If you find yourself flying more than once or twice a year—or flying on American Airlines—this card might make sense for you.
Not satisfied? Check out some of the best Barclays credit cards that we have reviewed.