8 Myths About the FAFSA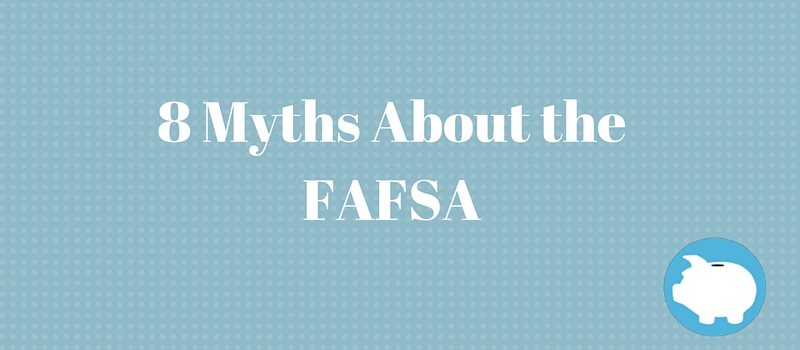 When it comes time to go to college, you may believe some of the most common FAFSA myths that exist out there. It is never a good idea to believe what you hear. You should always research it to make sure it is a valid point. If this is your first time applying for federal financial aid, you are probably excited and nervous at the same time.
Below, we will go over some of those common FAFSA myths that you have probably heard.
Myth 1: I Can't Afford College
While college is expensive, federal student loans make it possible for you to be able to attain your dreams. Depending on the price of your school and your financial need, your tuition and books may be completely covered by your student loans.
Sometimes, if your federal student loans do not cover all of your tuition costs, you can apply for scholarships and grants to help you finish paying.
Myth 2: I Won't Receive Aid Because I Have Bad Grades
Some students believe that they cannot fill out the FAFSA because they have poor grades. The FAFSA does not look at your grades and only looks at your financial need for student loans.
The only time your grades will affect you when qualifying for aid is when you apply for a scholarship or grant that requires outstanding academic performance.
Myth 3: I Won't Qualify for Aid Because My Parents' Income is Too High
You won't know whether you qualify or not if you do not take the time to fill out the FAFSA. Your parents' income may not affect the amount you receive. In addition, if your parents did make too much, you may still qualify for other loans and grants that are not based on financial need.
Myth 4: The FAFSA Will Only Award Grants and Scholarships
This is incorrect. As a matter of fact, if you want to be considered for student loans, you must submit a FAFSA report to your school. The FAFSA will take all of your financial information and determine whether you qualify for any scholarships or grants and then determine how much in student aid such as loans, you may receive.
Myth 5: I Can Submit the FAFSA Whenever I Want
You can submit the FAFSA up to the deadline date to be considered for financial aid for the term you are applying for. If you apply after the date, it is not guaranteed that your application will be processed in time.
It is also not wise to wait until the deadline as you may need to provide additional information, which will slow down the processing of your aid.
You should apply as early as you can to ensure your school is able to receive the information and provide you with awarded financial aid.
Myth 6: I Only Need to Fill Out the FAFSA Once and That's It
Wrong. The FAFSA needs to be filled out every new school year. This is because your financial information changes, your enrollment changes, and the amount of aid you receive changes as well.
Myth 7: It Costs Money to Fill Out the FAFSA
The FAFSA is actually FREE to fill out and does not cost you a dime. If a company is charging you a fee or offering to fill it out for a fee, then you may be the victim of a scam.
You can fill out your own FAFSA application and it is easy. You will need to head over to fafsa.ed.gov to find the application and instructions.
Myth 8: Filling Out the FAFSA Paper Application is Best
While you can fill out the FAFSA paper application, the online application is more accurate, especially since you can connect to the IRS to fill in your financial information. In addition, when you submit an online application, it is processed much faster than if you submit a paper application.
The above eight myths about the FAFSA are just that, myths. You will find that the FAFSA is a great tool as it helps provide you with access to grants, scholarships, and even student loans.
©2015
Author: Jeff Gitlen
Jeff Gitlen writes about a wide range of finance topics including everything from student loans to credit cards to small business financing. Jeff's work has been featured on a number of sites including Bloomberg, CNBC, Forbes, Market Watch, and more.